Back to all posts
Posted on
School Re-Entry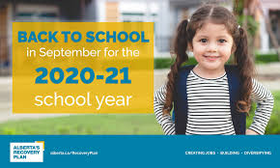 Memo From Principal Connie Adserballe
Dear Sunnyside families,
I hope you are all doing well and staying safe.
You have likely heard the news from the Government of Alberta on July 21 announcing that students will be returning to school in September under Scenario 1.  This announcement is likely received with some mixed emotions and I want to share some early thoughts with you.
At Sunnyside, we've been creating plans for all scenarios that carefully follow the protocol detailed in the Alberta Government 2020-2021 School Re-Entry Plan.  With the latest announcement, we will be finalizing plans in the coming days and weeks to ensure we are complying with the guidelines and most importantly creating the safest situation for our students and staff.
While Scenario 1 is described as "near normal", the re-entry plan will be quite different from the easygoing school our students and parents are accustomed to.  There will be significant changes to accommodate physical distancing, staggered recess/lunch, cohorts, increased hand sanitizing practices, and no sharing of supplies/equipment to name a few of the changes.  School will be very different in the fall.
However, we are committed to finding creative solutions.  The last few months of the school year taught us a lot! We found new ways to learn, to share, and to celebrate and I know that the amazing Sunnyside team will come through again to make 2020-2021 the very best it can be.  
Most importantly, the social emotional well being of our students is at the heart of our planning.  We know how essential the work we've been doing around wellness is to our mental health and we will continue to embrace this philosophy.  
Finally, we have missed our students, the parents and our whole community and we're looking forward to reconnecting.  I will share more information about the changes to the new school year during the first week in August.
Check out this video for what kids can expect in the fall prepared by the Government of Alberta here