Back to all posts
Posted on
FCC Drive Away Hunger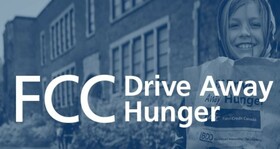 Sunnyside school is participating in FCC Drive Away Hunger, which means we will be collecting donations of food and cash for people in our area who are hungry. Because we are participating in this program, FCC will include our school in a draw for a $500 donation to be used to make improvements at the winning school. 
If you can, we'd like you to send food items to school with your child from October 8 - October 16 to support this program. Food pick up will be October 17.
Donating food isn't the only way your child can participate. This year, FCC is including an education and awareness activity so every student can get involved. 
For easy reference, here are the most needed food items (according to Food Banks Canada)
pasta products and rice
canned meats and fish
dry and canned soups and stew
canned fruits and vegetables
flour
breakfast cereal
canned/powered milk
fruit juices
pasta sauce
beans and legumes
infant formula and baby food
For more information, visit FCCDriveAwayHunger.ca
Thank you!