Back to all posts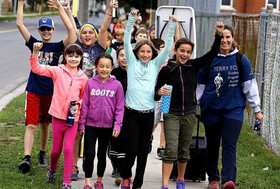 Sunnyside School will be participating in this year's Terry Fox School Run for cancer research on Friday, September 20. All students will meet in the gym at 11:15 am. Parents are welcome to join us.
We are proud to continue the legacy of one of our country's greatest heroes. We hope you will join us and support this wonderful cause by donating to our Terry Fox School Run fundraising page. Click here to donate online or set up a page for your child.
Students also brought home a Terry Fox pledge sheet that can be used for donations. We encourage each student to bring in a toonie or other donation with all funds collected to be forwarded to the Terry Fox Foundation for cancer research.